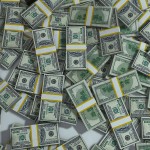 24 of 25 rents were all collected and deposited in the bank by 2/3/2015.  Since I am now 100% full, it was a great month for deposits and rental cash flow.  My one late tenant is the same one as I have every month, and she paid on 2/6/2015.  It was late, and many landlords would be happy to get their rents by the end of the month, let alone the first Friday of the month.
My typical month goes just like that.  If you look at my previous rent collections, you will see that I rarely get any late fees, and I rarely go beyond the second business day of the month to deposit my rents.
How do I do it?  I get great tenants to start with.
Rental Cash Flow
Rental cash flow is not only about incoming rents.  It is also about expenses and additional revenue streams.  If you are not controlling expenses, you are doomed.  Picking up revenue where it is easy to pickup is another key.  Can you pick up late fees?  Can you add pet fees?  Laundry machines?  Remember this, if you get greedy, you will soon be stuck with subpar renters.
You can see my recent cash flow reports at these links.
December – January 2015 Rental Cash Flow
Water Bills and Other One-Time Expenses
I finally received my water bill for my apartment that was using excessive water.  The previous quarter I used ~42,000 gallon of water and in the entire past year, I never used more than that in any given quarter.  This most recent quarter, I used ~166,000 gallons, almost four times as much water.  That is a big difference and it costs an extra ~$600 more than a typical quarter.  Ouch!!  Luckily we have a lot of water in Minnesota…  It just needs to be thawed so it flows better.
Of course the other water bills are also due for the rest of the buildings by the end of February.  About $2,500 this quarter for water…
I did see another building was gradually increasing in water usage.  I inspected all of the toilets and saw one that may have been overfilling.  I adjusted the valve, so maybe that was the cause.  I will monitor the water usage more closely to see increases from now on.  I had a $1,000+ water bill back in ~2010 due to a water line freezing.
Other Expenses
Credit card bills have come due for any remaining purchases that I made in December 2014, to take advantage of any tax savings for that year.  Those invoices total ~$6,000 and will be paid in full before any interest or penalties set in.  I have virtually all my accounts on auto-pay, so I never have to worry about missing a payment.  If it was not for auto-pay systems, I would have a negative credit score (even though that is not possible…).  Auto-pay keeps my credit score above 800.
My insurance payments/checks that I made in December 2014 finally cleared the bank in early January.  That was about $4,000 worth of insurance expenses, paid about a month early.  It should have saved just a bit in taxes, as the expense was in 2014, not 2015.  Of course that means this year I will have less expenses, unless I do the same thing.  And I did the same thing last year too, so the expenses actually just even out.  When I leave my full time job, my income will be less, so then it will not matter as much as tax rates will not be as high.
I replaced a furnace in one of my units.  The cost was ~$1,400 and a bit of labor.  I worked with my furnace guy to remove the old furnace and install the new one.  It took about 6 hours of work, but I saved ~$500.  And I learned a thing or two in the process.  I also learned that sheet metal is a bit sharp in the corners and cussing at the furnace seems to make the job easier.
 Additional Revenue Streams
I sold my first house in over ~30 years.  I renewed my real estate license in 2013, after taking 90 hours of education, taking two tests and paying ~$1,200.  I had a RE license in ~1983, and let it lapse as I went to college and got a real job.  I decided to get it back as I have many tenants that go on to purchase homes.  It has seemed to work to attract a few tenants, so it may well be worth it.
The purchase agreement is signed, and all contingencies are removed.  The buyers are using only one of their incomes to purchase the home, and they qualify for more, so they should not have a problem closing on the house.  The appraisal should go smooth as well, but one can never be 100% sure until the day of closing.
I pay ~$2,000 each year to keep my license in terms of education costs, broker expenses, license renewal costs, etc.  So I need to sell at least one every other year just to break even.  I have at least two more tenants that will likely be buying homes from me in 201, so it should not be an issue.
Projected Vacancies
I have one tenant that bought a house leaving at the end of February.  I started advertising, but not real intensely.  I have had great response, and believe I have a renter lined up.  It is not 100% yet, but close.  I will be out a month's worth of rent while I wait for him, but it should be a great tenant.
My West St Paul tenant that bought a house that is closing on 2/27 is obligated for March rent.  I have a tenant lined up for that place, and have $1,000 that says she will move in.   An extremely solid person with a near 800 credit score and decent income, well more than 3.5x the rent that most landlords look for.
A tenant has informed me that they will be looking at buying a home and using my services.  That makes two additional tenants that I will be helping to purchase a home, for a total of three in 2015, if things go according to plan.
Maintenance Log Updated
I updated the maintenance log again.  I have separated it by year, and may split it by month before it is over.  Let me know if you like that format, or what else you want to see.
What has your month been like in terms of cash flow?  Does it always seem to flow out faster than in? (or is it just me?)