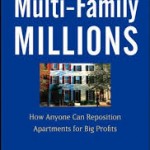 There are many ways to get a Real Estate education.  One of the ways is through college and basic licensing classes.  You can read books and search out things online.  A more creative way is through the many vendors that offer seminars at various locations.
Another way, which is the choice of many real estate investors, is to listen to their Realtor and jump in the deep end of the pool.  They take advice, from a Realtor that doesn't own any property, and buy when they are selling.  Sometimes it works, sometimes it doesn't.  But the Realtor is more than happy to sell the property for the naive investor, and get them a 'better' one.  Once again, like property managers, they make more than you do.
I just came back from a seminar taught by Dave Lindahl, "Multi-Family Millions Boot Camp", which I will write a review on at a later date.
I flew into Dallas, TX for a 4-day seminar.    I had a friend and roommate from the USAF that I was able to meet up with one evening, so it was a trip with a bonus.  He lives about an hour from where I was staying.  I had not even contacted him about the fact I was headed down there, until I booked the ticket.
I had lost contact with him for quite a few years, but his wife emailed me about six months ago wondering if I was the right person.  Since he has a very common first and last name, there was no hope of me ever doing a name search and finding him.  Luckily, I got the email about six months ago, and was a able to meet up with him and his wife for diner.  This is a person who I had not seen since June of 1982, so it was a great meeting.
Another bonus is that is it warmer in Dallas in April than it is in Minnesota.
When I travel, I am pretty cost conscious.  I flew Spirit Airlines, the low cost airline.  The ticket was $495.96, for two people.  I signed up for their credit card, something I rarely do, but should get $100 credit back.  I needed to charge $500 total, so that is already done.  Although now I do not see the email with the $100 credit offer, maybe it was just on the application screen…?  Update 04/15/14 – I received the $100 credit on my account.
I also got 15,000 miles, which supposedly is three round trip tickets, so we will see.  I do know that I will be going to Florida to look at property this summer, so it may work out.  The miles expire in three months if the card is not used.  Of course they do not fly to Fort Myers when I want to go (off peak), so maybe I will fly to Miami instead.
That's why I typically just use my cash back card.  Give me the money; I will spend it like I want.
I originally booked at the convention hotel, but switched my reservation to a Hampton Inn.  It was a $50+ cab ride to the hotel, no matter where I stayed.  Without a car, I am forced to eat at the convention hotel.  Walking to a place to eat was not an option, unless I wanted to walk at least a mile.  With a car, I can book a room at a hotel 3 miles away, and save $75 per night.  The Hampton Inn also has a free hot breakfast, another savings.  Total hotel cost, $636.34.  Budget Rental car, $331.13.
I ate at McDonalds, IHop, Wendy's etc. so the meals were not too bad.  I did eat a $15 burger for lunch at the convention hotel one day, and it was good, but not great.
Total Cost of the Trip, for two people
Air fare $495.96
Rental car $331.13
Hotel $636.34
Meals ~$150.
Total cost for the travel part of this education, $1,613.30.
I will do a review on Dave Lindahl's "Multi-Family Millions Boot Camp" in an upcoming post.